Landscape Design Turnwater, WA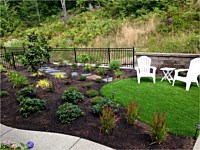 When it comes to creating great landscape designs, no other company in Washington does it better than us at Aquastone Landscaping. We have created countless awesome landscape designs for clients in Turnwater, Olympia, and Lacey since 1991. Our designs are noted for their exceptional details and use of appropriate methods. Each landscape design that we create is guaranteed up to standards and a representative of the client's preferences and lifestyle.
Call us now so we can start working on your dream landscape.
Unique Design Approach
We are proud of our unique approach to landscape designing, which makes us highly favored by contractors, property developers, and residential and commercial property owners in the state. Our designers adhere to our clients' specifications down to the smallest details. They employ balance, contrast, emphasis, and other principles of design, depending on the needs of the project. Our landscape design team makes it a point to bring out our clients' personality in the design plan, so the results are unique and highly personalized landscapes.
Landscape Design Just for You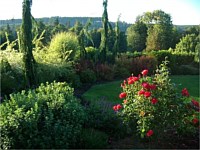 Our ultimate aim here at Aquastone Landscaping is to provide clients with awesome designs that perfectly exemplify their impeccable design taste and personality. Accordingly, we let them choose the landscape's theme or mood. We can come up with a landscape design that is Mediterranean inspired or contemporary. Other designs that we can achieve are Japanese garden, tropical landscape, cottage garden, Southwest landscape, and the like. Just tell us the look that you desire, and we'll provide the right design option.
Holistic Landscape Designs
The beauty of hiring us is that our designs are not only about beauty but also about giving you functional outdoor spaces. Many of our past creations in Turnwater and nearby WA areas exhibit both form and functionality, and we can provide you with a list of past projects for your reference. We employ time-tested techniques, such as adding other landscape elements to the design plan. We can add wood elements, water features and outdoor living spaces.
Moreover, we also indicate the use of premium materials that are durable and attractive, so the resulting structures are outstanding in aesthetic and strength. Likewise, we create provisions for healthy plantings to achieve lush vegetation. In short, our landscape designs are holistic and absolutely unique.
The Best Landscape Design Company in WA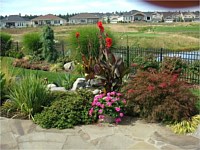 Aquastone Landscaping is easily the best landscape design company that you can hire in Washington. We offer professional service courtesy of our skilled and experienced crews who have handled some of the most challenging design jobs in Turnwater, WA and other cities nearby. Our designers use the latest in computer software to render vivid and highly detailed design plans. They are also very creative and can effectively translate our clients' vision into one-of-a-kind landscape designs that are the first step to a standout property.
But the best thing about getting our services is that we offer our services at very affordable rates. So no worries about having a small budget – we can surely find the perfect compromise to accommodate you. Call (360) 754-9835 for a free estimate or additional information about our landscape design services.